As a physiotherapist who see's patients in both Nanaimo & Parksville BC, I have seen firsthand the benefits of intramuscular stimulation (IMS) for countless patients recovering from injury who are experiencing tight muscles, nerve pain, or chronic pain. IMS is a type of therapy that involves inserting fine acupuncture needles into tight, painful muscles to release tension and improve function.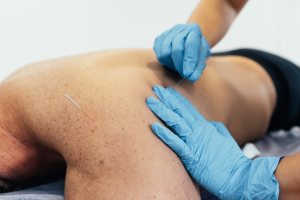 One of the key benefits of IMS is its ability to target and relieve tight muscles, which can be a major contributor to pain and dysfunction. Tight muscles can cause nerve impingements, leading to pain, tingling, or weakness in the affected area. IMS works by disrupting the tight muscle fibers and promoting normal function, reducing the tension on the affected nerve and decreasing pain.
IMS also has a neurophysiological effect, helping to reset the nervous system and reduce chronic pain. The stimulation from the needle triggers a reflex in the nervous system, which can help to reduce pain and improve function. Additionally, IMS can help to improve circulation, delivering oxygen and nutrients to the affected area and promoting healing.
IMS is a safe and effective therapy that can provide relief for many patients with chronic pain, tight muscles, or nerve pain. The therapy is performed by a trained practitioner and involves the use of sterile, single-use needles. IMS is well tolerated by most patients and has few side effects, making it a suitable option for many individuals seeking relief from injury-related pain.
In conclusion, IMS is a valuable tool for physiotherapists and patients seeking to improve function and relieve pain after an injury. By targeting tight muscles, improving circulation, and resetting the nervous system, IMS can provide effective relief for chronic pain, nerve pain, and tight muscles, helping patients recover from injury and return to their active lifestyles.
If you are experiencing chronic pain (any issue lasting longer than three months), neuropathic or nerve pain, or persistent muscular stiffness reach out today and we are happy to assess your condition and determine if IMS is a suitable part of a treatment plan for you and your goals.
We have locations in both beautiful Nanaimo and Parksville, BC and have admin teams standing by happy to connect with you!