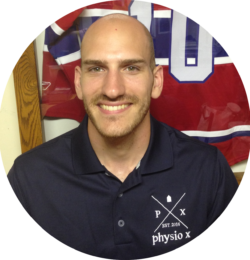 Vince grew up in a military family living in the Prairies, Comox Valley and Eastern Ontario.  Helping others has always been an integral part of the Turpin-family mindset; his mother was a special needs teacher with autistic children and his father was a search and rescue pilot.  Vince has always sought to give back to the community but was unsure how.
He completed his BSc. in Kinesiology in 2011, unsure of what avenue to pursue next.  The next year was spent working with Division IV soccer in France and knew that the realm of sports & rehabilitation were his calling.  Graduated from the Physiotherapy Department from the University of Ottawa in 2015, he continued to travel extensively while working with Baseball Canada, West Coast Rugby (New Zealand), the Arctic Winter Games, Mann Cup Lacrosse and locuming in BC, Yukon and Ontario.  He comes to the Nanaimo area eager to discover his new backyard and continue to get involved in the local community.
Professionally, Vince is a firm believer in movement and exercise based approaches.  He has completed his Level I Manual Therapy, Level B Mechanical Diagnosis and Therapy – with the intent of credentialling within the next year.  He is also seeking his Certificate in Sports Physiotherapy, certified FMS Movement Screen and has accumulated more than 400 hours in sport-specific physiotherapy.
When away from the clinic or sports field working as a physiotherapist, you will most likely find Vince on a mountain or in the water: hiking, biking, running, skiing, surfing, snorkeling, sailing, windsurfing, you name it.  Je suis aussi parfaitement bilingue en français, donc n'hésitez pas à communiquer avec moi dans la langue de votre choix.
University of Ottawa: Master of Physical Therapy – Class of 2015
Certifications & Training
400+ hours accumulated as Sports Physiotherapist for the West Coast Provincial Rugby RFU
(Div III), Arctic Circle Winter Games 2018 and Tyendinaga Thunderbirds Lacrosse (Div III)
• Level I Manual Therapy, Part A & Part B McKenzie MDT
• Return2Play (R2P) – Advanced Management of Concussions Certified
• APTEI Acupuncture and Dry Needling Certified
• FMS Movement Screen Certified
• Perfectly fluent in both English and French, notions in German
Professional Affiliations
Registered Physiotherapist, College of Physiotherapists of Ontario since 2015
SPC Sport First Responder 2018
CPA & SPC Member, Canadian Physiotherapy Association since 2013
CEP – Certified Exercise Physiologist, CSEP, Ottawa ON since 2011
Certified NCCP Coach Level 1 and 2 – NCCP # 1165050 since 2009