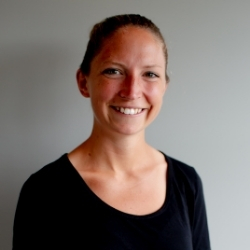 PHYSIOTHERAPIST
MPT, BHK (HONS), IMS
Sara is a registered Physiotherapist who completed her Master's of Physical Therapy at the University of British Columbia in 2015. Sara obtained her Bachelor of Science Kinesiology Honours degree with distinction at the University of Victoria.
Sara moved back to Nanaimo 2 years ago, although she is no stranger to the island. She grew up on Gabriola Island and she is excited to be back in Vancouver Island's active and growing community. Sara understands the impact that injuries can have on everyday life and so she focuses on hands-on techniques to decrease pain and active rehabilitation to improve function. She uses a variety of manual therapy techniques, IMS, and comprehensive exercise programs to assist patients in reaching their functional goals. She guides her patients enabling them to reach their full potential.
Sara is experienced in working with a wide variety of populations including athletes, geriatrics, paediatrics, and everyone in between. She will help you get through those chronic and acute injuries that develop from day-to-day life such as sciatica, postural tension, headaches, and acute sprains and strains.
In 2015, Sara travelled to India to explore physiotherapy on an international level. During her time in India, she realized the major impact physical restrictions and injuries can have on function and quality of life. She also became aware of the importance of preventative measures to maintain health and integrity. Sara's background, experience, and keen interest in orthopedics, sports, and global health contribute to her well-rounded approach to support patients in advancing their health, function, and outcomes in life and activity.
University of British Columbia: Master of Physical Therapy – Class of 2015
UNIVERSITY OF VICTORIA: Bachelor of Education B.Sc. Honours Kinesiology (CO-OP) with distinction – Class of 2013
NANAIMO DISTRICT SECONDARY SCHOOL: List of distinction – Class of 2008
Certifications & Training
Complete Concussion Management Certification – 2020
The Institute of Clinical Excellence: Cervical Spine Management – 2019
Essentials of Musculoskeletal Imaging and Radiography, Evidence in Motion Health Institute – 2019
Essentials of Pharmacology and Clinical Lab Tests, Evidence in Motion Health Institute – 2019
Essentials of Medical Screening, Evidence in Motion Health Institute – 2019
Management of Lower Extremity Disorders, Evidence in Motion Health Institute – 2018
Lumbopelvic Management, Evidence in Motion Health Institute – 2018
Diagnosis and Management of Chronic Spinal Pain – 2018
Evidence-Based Practice, Evidence in Motion Health Institute – 2018
Lyn Watson Level I Shoulder Physiotherapy Course – 2017
The Lumbar Spine Mechanical Diagnosis & Therapy ®, McKenzie Institute Canada – 2016
IMS Therapy / Functional Dry Needling – October 2016
Emergency Sport First Responder – March 2016
The Lumbar Spine Mechanical Diagnosis & Therapy ®, McKenzie Institute Canada – February 2016
Mulligan Concept – Lower Quadrant Mobilizations with Movement – March 2015
Level 1 Certification Upper and Lower Quadrant: Orthopedic Division of the Canadian
Physiotherapy Association – March 2015
Advanced Physical Therapy Education Institute Lumbar Spine Course – 2014
Professional Affiliations
Advanced Health and Sports Clinic: Physiotherapist
Extension Physiotherapy: Physiotherapist
British Columbia College of Physical Therapists: Professional Member
UBC Physical Therapy Student Society – Ortho Club Representative (2014 – 2015)
Queen Alexandra Centre for Children's Health – Kinesiology Instructor (2010-2014)
University of Victoria Vikes Gym – Strength Trainer (2011-2013)
Canadian Back Institute – Physiotherapy Aid (2011)
Vancouver 2010 Winter Olympic Games – Kinesiology Student Employee (2010)
Velox Valhallians Rugby Football Club – Athletic Trainer (2010)
Gabriola Soccer Association – Volunteer Coach and Referee (2002-2008)