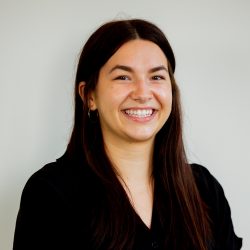 Morgan is a Registered Acupuncturist with the College of Traditional Chinese Medicine Practitioners and Acupuncturists of British Columbia (CTCMA). She is a 2020 Graduate of the Diploma of Acupuncture from Pacific Rim College in Victoria, BC.
Morgan witnessed her first acupuncture treatment at the age of four when tagging along to her mom's appointment. As a teenager, she found that acupuncture had profound effects when treating multiple sports injuries, mental health and digestion issues. Experiencing the benefits of acupuncture led Morgan to pursue it professionally; she wanted to share and help others experience and discover the holistic approach to improving their health. Some of her keen interests include in treating women's health issues, digestion, mental health, migraines, headaches, and sports injuries. Morgan is comfortable treating other ailments and promoting general health and well-being as well. The approach of her practice is to be that guide to facilitate a patients natural healing process within an open and inclusive space for individuals to be heard, unwind and flourish into their authentic selves.
Coming from a Cree / Metis background, Morgan values her cultural and spiritual connection to her indigenous roots and community. She grew up in a small mountain town in Alberta, spending a lot of time outdoors. Growing up she was also apart of many competitive sports including volleyball, basketball and swimming.
Morgan relocated to the island three years ago. Since then, she has fallen in love with all it has to explore and is grateful for the opportunity to live and work here.
In 2017, she traveled to Northern India and obtained her 200-hour yoga teaching certificate. Morgan enjoys body movement, yoga and meditation practices. In her spare time, she loves to be outside hiking, camping, biking and hanging out with friends and family.
PACIFIC RIM COLLEGE – Victoria, BC:
Diploma of Acupuncture – Class of 2020
Certifications & Training
Professional Affiliations
Advanced Health & Sports Clinic: Acupuncturist
College of Traditional Chinese Medicine Practitioners and Acupuncturists of British Columbia: Professional Member