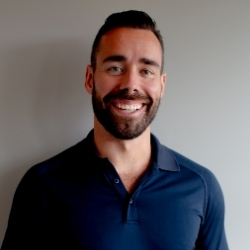 PHYSIOTHERAPIST
MPT, IMS, CCM
Jake is a fully certified Physiotherapist who obtained a Master's of Science Degree from McGill University in 2015. Jake then studied at the Evidence in Motion Institute of Health Professionals in the United States which he completed in the Spring of 2017. These programs played an integral role in accelerating Jake's knowledge, clinical skills, and provided a strong foundation for his clinical practice.
Jake was born in Nanaimo in 1986 and has spent most of his life growing up in the Harbor City. As a youth Jake was heavily involved athletics including; Lacrosse, Rugby, Football, track and field, boxing, wrestling, and primarily hockey. Jake graduated from Dover Bay Secondary in 2004 and then worked full time for 3 years in the construction industry operating heavy machinery and managing gravel pits. Jake's educational/professional background has covered the full spectrum ranging high performance athletes to the geriatric setting and everything else in between. 
Jake utilizes a diverse skill-set in the treatment of neuro-musculoskeletal conditions with a strong focus on evidence based practice in the clinical science of Physiotherapy.
Intramuscular Stimulation/Dry Needling (IMS) 

Spinal & Extremity Manipulation 

Spinal & Extremity Mobilization

Soft tissue manual therapy 

Instrument Assisted Soft Tissue Manipulation 

Home Exercise Programs 

K-Taping 

Therapeutic Modalities (TENS, Electro-Muscular Stimulation, Ultrasound) 

Custom Orthotics & Gait Analysis (Footmaxx) 

Mackenzie Spine Institute Rehab 

Complete Concussion Management 

Pain Neuroscience Education
MCGILL UNIVERSITY:
Masters of Physical Therapy – Class of 2015
VANCOUVER ISLAND UNIVERSITY:
Bachelor of Arts – Major in Sport, Health, and Physical Education – DeansList – Class of 2011
DOVER BAY SECONDARY SCHOOL:
Honor Role – Class of 2004
ATHOL MURRAY COLLEGE OF NOTRE DAME:
Honor Role – 2000/2001
Certifications & Training
Masters of Science Physical Therapy – 2015, McGill University
Introduction to Vestibular Rehabilitation  (Bernard Tonks) – June 2020
Complete Concussion Management Re-Certification – November 2019
Shockwave Therapy Workshop (BTL) – November 2019
Manual Therapy Management of the Cervical Spine – Institute of Clinical Excellence – September 2019
Concussion Rehab Works – Level 1, Shannon McGuire – November 2018
Explain Pain – NOI Group – Novemeber 2018
Complete Concussion Management Re-Certification – November 2017
Dr. Jill Cook Tendon Symposium Master-Class Level 2 (UBC) – August 2017
Dr. Jill Cook Tendon Symposium Master-Class Level 1 (UBC) – August 2017
Management of Upper Extremity Disorders, Evidence in Motion Health Institute – March-April 2017
Management of Cervico-Thoracic Disorders, Evidence in Motion Health Institute – January-February 2017
Essentials of Musculoskeletal Imaging and Radiography, Evidence in Motion Health Institute – January-February 2017
Essentials of Pharmacology and Clinical Lab Tests, Evidence in Motion Health Institute – November-December 2016
Essentials of Medical Screening, Evidence in Motion Health Institute – September-October 2016
IASTM Masters Certification, M2T Blade – October 2016
Management of Lower Extremity Disorders, Evidence in Motion Health Institute – September-October 2016
Lumbopelvic Management, Evidence in Motion Health Institute – July-August 2016
Evidence-Based Practice, Evidence in Motion Health Institute – July 2016
Certified Practitioner Gunn IMS: LearnIMS – October 2015
Orthotic Group: Custom Orthotic Fitting – Vancouver BC – October 2015
Orthotic Group: Gait Analysis – Vancouver BC – October 2015
Level 1 Certification Upper and Lower Quadrant: Orthopedic Division of the Canadian Physiotherapy Association – March 2015
Concussion Specialist: Complete Concussion Management – August 2014
National Strength & Conditioning Association: Certified Strength and Conditioning Specialist – October 2010
The Lumbar Spine Mechanical Diagnosis & Therapy ®, McKenzie Institute Canada – February 2016
K-Taping Pro Certification, K-Taping International Academy – February 2016
Lyn Watson Level I Shoulder Physiotherapy Course – April 2016
Lyn Watson Level II Shoulder Physiotherapy Course – April 2016
M2T Blade, Foundations of Instrument Assisted Soft Tissue Mobilization (IASTM) – May 2016
New Trends in the Prevention of Running Injuries, The Running Clinic – May 2016
Professional Affiliations
Advanced Health + Sports Clinic: Clinic Director and Physiotherapist (Feb 2018 – present)
Vancouver Island University Mariners – Men's Hockey: Assistant Coach & Physiotherapist (2017-18 + 2018-19)
British Columbia College of Physical Therapists (2015 – present)

British Columbia Association of Physical Therapy (2014 – present)
Canadian Physiotherapy Association (2012 – present)
Orthopedic Division of the Canadian Physiotherapy Association (2012 – present) 

Complete Concussion Management: Nanaimo Practitioner (2014 – present)

North Island Silvertips: Team Physiotherapist (2015-present)

Nanaimo Buccaneers Junior B Hockey Club: Team Physiotherapist (2015-2016)
North Island Silvertips: Strength and Conditioning Coach (2011-2012)
Nanaimo Bantam AAA Clippers: Assistant Coach (2010-2011)