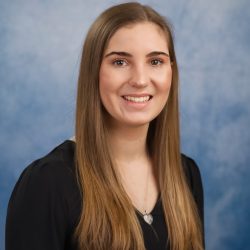 Isabelle is a physiotherapist who obtained a Masters of Science in Physical Therapy from Queen's University in 2022. She graduated with Distinction with a Bachelor of Science in Kinesiology and a Minor in Psychology from the University of Victoria in 2020.
Isabelle grew up in Nanaimo and is excited to return home and join the Advanced Health and Sports Team. Growing up, Isabelle was an accomplished dancer who trained and competed extensively in ballet, jazz, and tap. She also swam competitively with the Nanaimo White Rapids program. Through dance and swimming, Isabelle learned early the importance of sports injury prevention and management and sought a career in physiotherapy to help others navigate the same.
Isabelle understands the importance of a holistic approach, and really works to find a treatment plan that treats the individual as a whole. She prioritizes allowing patients to maintain activity during their recovery and is eager to support getting people back to doing what they enjoy most. Isabelle is happy to support all patients but is passionate about working with youth and athletes during their recovery.
In her free time, Isabelle enjoys being active and spending time outside. She particularly enjoys hiking, yoga, camping, paddle boarding, participating in triathlons and spending quality time with her family, friends, and animals.
QUEENS UNIVERSITY:
Masters Science in Physical Therapy – Class of 2022
UNIVERSITY OF VICTORIA:
Bachelor of Science in Kinesiology with a minor in Psychologie– Class of 2020
Certifications & Training
Sports First Responder – September 2020
Professional Affiliations
Advanced Health & Sports Clinic: Physiotherapist
British Columbia College of Physical Therapists: Professional Member
Kingston Jr. Ice Wolves Provincial Women's Hockey Team: Team trainer (2020-2021)