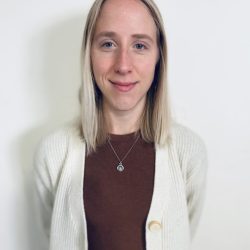 Erica De Schiffart has earned her Doctor of Chiropractic at the University of Western States with the goal of getting people in the Parksville and Qualicum Beach area moving and feeling better. Her passion and involvement in athletics has driven her to help people get back to the activity level they desire. Having sustained many injuries while participating in sports has given her a unique approach into understanding and relating to patients suffering from all kinds of pain, utilizing an array of techniques including soft tissue mobilization, chiropractic adjustments, soft-tissue mobilization, rehab exercises, and lifestyle modifications.
Erica believes in an evidence-informed approach and the value behind each patient receiving individualized treatment. Her goal is to keep others healthy, educate them on their pain, and provide them with the skills needed to help themselves by using the skills she has mastered in school.
Erica has been involved in the sporting world her entire life, focusing on track and field and cross-country. After her sports career ended climbing, mountain biking, and hiking became her new full-time sports. Erica is eager to connect with the Parksville & Qualicum Beach community to help manage your aches & pains, feel your best, and perform optimally.