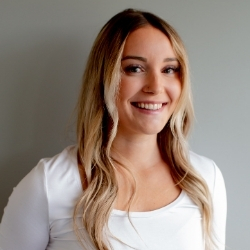 ATHLETIC THERAPIST
BAET, CAT(C)
Dana was born and raised in Nanaimo, BC with her family of two siblings. She fell in love with the sport of gymnastics at the young age of two, and continued to compete up to a national level. With gymnastics training came ballet and jazz dance training as well. At the age of ten she began highland dancing where she excelled quickly to the premier level. Dana started coaching gymnastics at the young age of twelve, and has continued to grow as a coach, now coaching athletes at the elite level.
Immediately after graduating from Dover Bay High School in 2010, Dana began her post-secondary education at Vancouver Island University (VIU) in a Bachelor of Arts of Physical Education program. She soon knew this was not the path she wanted to take and was accepted into the Bachelor of Athletic and Exercise Therapy program at Camosun College. She moved to Victoria, BC where she studied Athletic and Exercise Therapy for four years, which required 600 hours of field experience, and 600 hours of clinical experience. She worked with various teams including the VIU soccer and basketball teams and the Nanaimo Senior B Timbermen Lacrosse team. She travelled with the Timbermen to the National Championships for two consecutive summers. Dana graduated at the top of her class in June 2016 and then travelled to Calgary, AB to write her Canadian Athletic Therapists Association National Certification Exam. 
Dana is excited to help individual's reach their peak performance level no matter what their occupation, activity, or sport may be through prevention, rehabilitation, and sound return to play (activity) planning. She believes her experience as an athlete herself helps her to be the holistic therapist she is today and allows her to excel at her specialty of dealing with aesthetic type sports and activities such as gymnastics and dance.
CAMOSUN COLLEGE:
Bachelor of Athletic and Exercise Therapy – 2016
2017 FIG Artistic Gymnastics World Championships

2017 Canadian Trampoline Gymnastics Championships

Island MMA & Peterecs Martial Arts Studio

Vancouver Island University Varsity Soccer & Basketball

2013 PACWEST Women's & Men's Soccer Provincial Championships

2014 BCSS Provincial Gymnastics Championships

Senior B Timbermen Lacrosse 

2014 BC Summer Games
Certifications & Training
Pregnancy Rehabilitation Certification (Pelvic Rehabilitation Institute) – June 2020
Complete Concussion Management Certification – October 2018
JOGA Coach – February 2017

FMT Blades Certified – September 2016

FMT-Performance Certified Rocktape Doc – October 2017

First Responder & CPR/AED Level HCP – February 2014

NCCP Level 3 Women's Artistic Gymnastics – August 2012

NCCP Level 2 Trampoline – September 2016

Associate Highland Dance Teacher – June 2009

Making Ethical Decisions – September 2010

Respect In Sport – September 2010

Fundamental Movement Skills: Community Leader – February 2011
Professional Affiliations
Coast Performance Project: Owner/Operator & Athletic Therapist)

Athletic Therapist's Association of BC: Professional Member

Canadian Athletic Therapist's Association: Professional Member

Joga World: Coach

Gymnastics BC: Coach

Nanaimo Gymnastics School: Coach