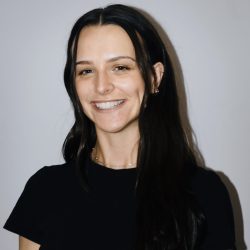 PHYSIOTHERAPIST
MPT, BKIN
Callie was raised in Tillsonburg, Ontario where she grew her passion for movement through dance. This led her to train professionally at the Quinte Ballet School of Canada and the School of Alberta Ballet, obtaining advanced Royal Academy of Dance and Cecchetti training. It was here that she gained a keen interest in the functioning of the human body and how psychological and sociological factors can contribute to illness and injury. Wanting to be considerate of this while providing personal and holistic treatment through education and movement, she began to pursue a career in Physiotherapy.
While obtaining a Bachelor's degree in Kinesiology at the University of British Columbia, she acted as a varsity Athletic Therapist working with the rugby, basketball, and football teams, then continued employment as a Sports Rehab Kinesiologist. Continuing her love for artistic athletics, she became an NCCP Certified Gymnastics Coach working with children and adults in the Vancouver area. Upon moving to Hamilton, Ontario she obtained her 200 Hour Yoga Teacher Training certificate and has taught classes for adults and kids of all ages and abilities.
After graduation from the Master's of Physiotherapy program at McMaster University, Callie has continued education in Pediatrics, Pelvic and Women's Health, and Neurokinetic Therapy. Callie has experience working with children and adults presenting with a variety of orthopedic and neurological diagnoses and strives to provide personalized knowledge and strategies to support her clients in reaching their maximum potential.
Now a resident of Nanaimo, you can find Callie outside of the clinic at the yoga studio, biking, snowboarding, surfing, golfing, and indulging in creative pursuits like painting, writing, and designing.
McMaster University: Master of Science (Physiotherapy) – Class of 2022
The University of British Columbia: Bachelor of Kinesiology – Class of 2019
Certifications & Training
Pelvic Concepts (Immaculate Dissection) – March 2023
Anatomy of Movement Subsystems Concepts (Immaculate Dissection) – March 2023
Peripheral Nerve Entrapment Concepts (Immaculate Dissection) – February 2023
Neck, Jaw, and Hand Concepts (Immaculate Dissection) – January 2023
Upper Extremity Concepts (Immaculate Dissection) – December 2022
Lower Extremity Concepts (Immaculate Dissection) – November 2022
Core Concepts (Immaculate Dissection) – October 2022
Neurokinetic Therapy Levels 1, 2, & 3 – September 2021 – December 2022
Standard First Aid CPR/AED Level HCP – November 2022
Biopsychosocial Approach to Pelvic Health (Pelvic Health Solutions) – November 2021
The Role of Physiotherapy in the Treatment of Anyone Experiencing Pelvic Pain Through a Trauma Informed Lens (Pelvic Health Solutions) – October 2021
The Physical Therapy Approach to Anyone Experience Urinary Incontinence (Pelvic Health Solutions) – September 2021
Non-Internal Introductory Pelvic Health (Pelvic Health Solutions) – August 2021
200-Hour Yoga Teacher Training – June 2021
Functional Movement Systems – April 2018
NCCP Gymnastics Coach – July 2017
Advanced Royal Academy of Dance – June 2015
Professional Affiliations
Advanced Health & Sports Clinic: Physiotherapist (Present)
College of Physical Therapists of British Columbia: Professional Member (Present)
iMove Clinic: Physiotherapist (2022 – 2023)
Kids Physio Group: Physiotherapist (2022 – 2023)
College of Physiotherapists of Ontario: Professional Member (2020 – 2023)
Legacies Health Centre: Kinesiologist (2019)
British Columbia Association of Kinesiologists: Professional Member (2018 – 2019)
UBC Varsity Athletics: Student Athletic Therapist (2017 – 2019)
National Coaching Certification Program: Professional Member (2017 – Present)
Functional Movement Systems: Professional Member (2018 – Present)
SportMed BC: Professional Member (2017 – 2019)