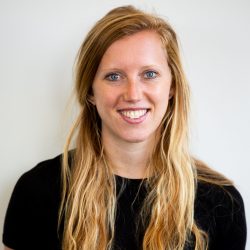 PHYSIOTHERAPIST
MPT, BKin
Maggie studied her undergraduate degree at UBC in Kinesiology and Health Sciences, after which she worked as a clinical kinesiologist for one year before moving to Glasgow, Scotland to do her Masters of Physiotherapy.
Maggie grew up playing competitive volleyball and running track and cross country and has completed two half marathons (coming 2nd in her age group) and a triathlon. Maggie also loves backpacking and hiking in the mountains, and has recently taken up mountain biking to spend even more time in the outdoors.
Maggie is eager to treat anyone looking to get back to their normal physical activities by fostering a welcoming and relaxing environment for her patients to feel comfortable with discussing their issues and goals. Maggie incorporates manual therapy and specific exercise prescription together to get the body moving in a pain free and functional way. Maggie has an interest in treating the pelvic floor, runners, and endurance athletes, and has experience working with triathletes and Ironman athletes from novice to professional. Maggie also has worked with peri-partum and post-partum women and led exercise classes for peri-partum and post-partum women experiencing low back pain, pelvic floor pain/dysfunction, and/or eager to get back to exercise.
Glasgow Caledonian University
MSc Physiotherapy – Class of 2019
University of British Columbia
BKIN and Health Science – Class of 2015
Certifications & Training
Concussion Management Level 1 & 2, Concussion Rehab Works-Shannon McGuire – May 2020
Introduction to Pelvic Health, Embodia – November 2020
Level 1-The Physical Therapy Approach to Male and Female Urinary Incontinence – June 2021
Treating and Training the Female Runner, Julie Wiebe – February 2021
IMS Dry Needling Level 1 & 2, Acupuncture Canada, July 2021
Professional Affiliations
Advanced Health & Sports Clinic: Physiotherapist
British Columbia College of Physical Therapists: Professional Member
British Columbia Association of Physical Therapy: Professional Member
Canadian Physiotherapy Alliance